BARCELONA / Gran Teatre del Liceu: Hoffmann's Tales - January 20 and 21, 2021
Gran Teatre del Liceu
Opera romance in lockdown – Spain makes it possible – it is hard to believe! At a time in which in classic opera countries like Germany and Austria politicians persistently refuse to recognize the systemic importance of culture for society and to make theaters, concert halls and opera houses accessible to at least part of the public – in Spain and Bulgaria, so on the extreme fringes of the so much invoked "Old World", this is currently normal.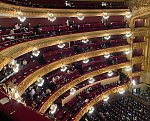 The tiers of the Liceu
In Spain, after professional hygiene analyses to detect possible Covid 19 dangers, the companies have come to the conclusion that you can play with a significant proportion of the audience. And in Barcelona, the offer has been well received with almost the approved 50 percent occupancy rate, with prices of up to € 290 in the orchestra.
Lindorf
At the Gran Teatre del Liceu of Barcelona, which rose like a phoenix from the ashes in 1999, Jacques Offenbach's "Tales of Hoffmann", directed by Laurent Pelly, was produced in coproduction with the Opéra national de Lyon and the San Francisco Opera. Pelly tells the story – very intensely from Hoffmann's eyes and emotions, which he succeeds impressively with a dazzling personal direction for all characters, even the smallest supporting role. The piece has thus strong inner workings. It is always about Hoffmann's tragedy, his often-exuberant joy and the disappointments that quickly follow. To this end, Chantal Thomas built a stage set that alternates between realism and abstraction. Depending on the situation, it shows industrial technology that is outdated (Olympia act), then upper-class romanticism with a grand staircase (Antonia act) and finally the elegant salon of a noble courtesan (Giulietta act), but without the Venice apercus.
Hoffman with his friends
The world of Lindorf, Coppélius, Dr. Miracle and Dapertutto plays into this scenery with surreal moments, which make the whole thing even more exciting (Videos: Charles Carcopino). The large-scale stage walls, always in discreetly depressive pastel tones, are reminiscent of the minimal art of the Russian avant-garde artist Kazimir S. Malévich (1879-1935). But everything fit together in great dramaturgical homogeneity, also due to Joel Adam's lighting direction, and always seemed very tasteful. The director's costumes from the time of the play also contributed and were produced with Jean-Jacques Delmotte.
Olympia act
On both evenings, partly alternating cast, you could hear all the wonderful "Hoffmann" melodies to the finest quality. Riccardo Frizza conducted the Symphony Orchestra of the Gran Teatre del Liceu, always in close harmony with the action, so that both the dramatic climaxes and the quiet and contemplative moments come out very well. John Osborn was an impressive (also First Night) Hoffmann with a stable middle position and strong heights as well as a gripping representation. Arturo Chacon-Cruz did not come close to this performance vocally but was very good as an actor.
Olympia
Olga Pudova was a first-class Olympia with impressive heights and depicted in a moving installation that really made her look like a doll against a black background. Ermonela Jaho sang and played a good and very musical Antonia with great intensity, and both Nino Sugurladze and Ginger Costa-Jackson were vocally appealing and lascivious Giuliettas. Roberto Tagliavini could please better than Aleksander Vinogradov as the villain because of his warmer timbre. Marina Viotti was a first-class and committed muse and Niklausse with a colored mezzo. After his third failure, she put Hoffmann to rest with a characterful interpretation of the wonderful last verses on the tears, which are supposed to be even stronger than love, associative, erotic …
Giulietta at
The smaller roles were also well cast, i.e., Crespel / Luther with Alexey Bogdanov with a good character tenor; Schlemihl / Hermann with Carlos Daza with a powerful baritone; Andrès / Cochenille / Frantz / Pitichinaccio with the well-articulating Vincent Ordonneau and with the Nathanael by Roger Padullés. The late mother of Antonia let a beautiful mezzo be heard in a video illusion with Laura Vila. Adriana González was a good Stella. The excellent choir of the Gran Teatre del Liceu was rehearsed by Conxita Garcia and was also perfectly choreographed.
Fotos: David Ruano 3-7; K. Billand 1-2
Klaus Billand
Further Composers
Legal information